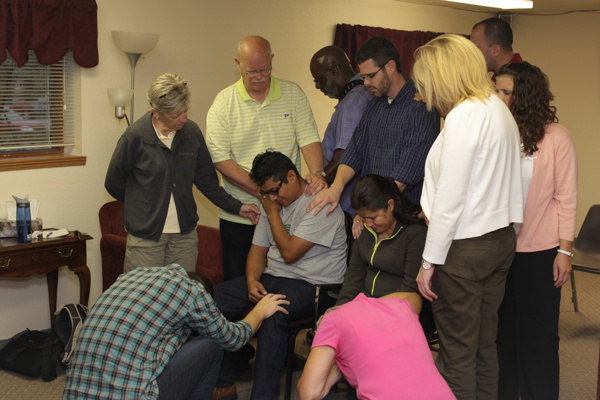 A SOBER CALL TO PREVAILING PRAYER
For a Dynamic Spiritual Awakening and the Aggressive Advancement of the Kingdom in America's Inner Cities
We make a sober call to all believers who love the Lord Jesus and the cities of America to join us in forming new movements of prayer for the city, for all those who live in them, especially God's people. We are making a call to prevailing prayer in the name of Jesus Christ for God's glory. We are asking that God might send to us his very own Holy Spirit, to break through the darkness, evil, and despair of the city and bring refreshment and revolution change among the poorest of America's urban poor. By all accounts, the inner cities of America represent one of the most difficult fields for Gospel ministry on earth. We designed these practical, handy resources to help you pray specifically for the transformation of your city. Join us and the thousands of others who are interceding for the cities of the world!
Facilitate Prayer Concerts or Groups
We are recruiting dedicated prayer warriors who would be willing to intercede on behalf of the church and the lost in the inner cities of America and the world! You can join the ever-growing number of intercessors who are facilitating prayer concerts in their congregations, Bible Studies, and family gatherings. Faith honors the Lord, and our Lord honors the faithful prayers of his people! Join us in praying for the city's revival and transformation!
This is an amazingly strategic moment in the history of world mission, an effort which has become increasingly an urban challenge. Our deepest conviction regarding the future of urban missions is simple and potent: America's inner cities (as those, too, of the entire world) are simply unwinnable without a new and fresh visitation from God. Nearly sixty million people live in America's poorest urban communities, with more than 90% of these residents claiming no knowledge of or relationship to God in Jesus Christ. These tortured communities have been deeply scarred by violence, severely exploited economically, and suffer from horrific social conditions and severe health-related problems. Our American inner cities are hazardous on a number of different levels, and yet they continue to swell from immigrant populations entering them every day. Add to this, the mind-numbing ethnic and racial diversity of the city, and you have outlined one of the most dangerous, challenging fields in the world today. Perhaps the greatest liability of all, America's inner cities suffer from wholesale discouragement and nihilistic despair; everyone seems to live in fear and dread, with a keen sense of hopelessness.
The call to concerted, focused, disciplined prayer is not bathed in nostalgia. This is not a call to repeat the "good old days" of the past (i.e., a nostalgic return to the glory days of the great awakening revival meetings, or any other revivals of history). Nor is this a call for the guilt-ridden to simply spend a few more hours in prayer out of a sense of necessity. Nor do we make any pleas here for simply a little more effort in prayer, a kind of seasonal emphasis in prayer for the cities that could be done leisurely and conveniently "every other quarter" or so.
Rather, what we advocate here is a new brokenness joined to an entirely new vision of ourselves and the city as powerless without the Lord's intervention. We are asking here for a radical reorientation of our lives toward prayer to God based on a rediscovery and reaffirmation that only God can change the inner cities of America.
In order to help facilitate this radical reorientation of our lives toward prayer, we ask that you join us in facilitating prayer concerts in your congregation, Bible Study group, family, or gathering. We are calling for all who share our burden to host prayer concerts, directing people in prayer for a spiritual awakening and the advancement of the Kingdom in America's inner cities. TUMI has put together resources that can help you to that end (see below).
Let God Arise! Prayer Resources
Resources to Help You Reorient Your Life Toward Prayer
At-A-Glance Prayer Guide
Based on Psalm 68, we have named our prayer movement the Let God Arise! Prayer movement for the cities of the world. Use this document as a guide as you make your disciplined intercession for the city!
Let God Arise! Day of Prayer Sample Schedule Template
Use this as a guide as you seek to pray through our prayer guide (7 A's) on your day of prayer.
Let God Arise! Prayer Booklet
This challenging prayer guide was inspired by a Gospel tract written by Jonathan Edwards decades ago calling for concerted prayer for revival! This short but meaty booklet issues a call to anyone seeking the city's healing and transformation to intercede in a passionate and disciplined way on behalf of the unreached urban poor worldwide.
Let God Arise! Prayer Brochures
This multi-pack of full-color brochures is a convenient and beautiful resource that will help lead your personal or group time of prayer through the 7 A's, giving descriptions and scripture references of each step.